Natural Rearing Breeder's Directory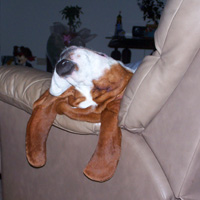 Dogs enjoy creature comforts
too you know...
This directory is a compilation of breeders who care and pride themselves in the health of their animals. These special people have chosen to learn and incorporate natural health care methods for their animals. Some are at the beginning of their education, but are committed to giving the best health care possible. There are a few who have chosen to be included in the directory, although not breeders, that can offer guidance for the breed.
All involved in this project have the same goals - to raise healthy animals that will be loved and cared for. By combining modern science and technology with old and new findings in natural health care these breeders have chosen the best of both worlds.
As this is the first directory of it's kind, it is anticipated that many more breeders will be participating as time goes by. Thus if you cannot find a listing for a particular breed you are interested in, do check back later. We will be continually updating the information.
DISCLAIMER: We are not responsible for the accuracy of the information provided by the Breeders. It is up to those who use this directory to verify the information as accurate.
Below you will see a list of all the breeds listed in our database. You can click on a specific breed to immediately see the listings in that category.
Each entry in the Breeder's directory appears in the same format:
The Breed Category
Breeder's Name
Street Address
City, State / Province
Postal / Zip Code
Country
Breeder's Phone Number
Breeder's Email Address
Breeder's Website
Vaccinations*
Health Care*
Diet*
*See notes below for explanations of the codes used.
ABBREVIATION EXPLANATIONS
In each breeder listing there will appear a variety of code abbreviations. These are to help give more specific information on each listing. Please remember that many breeders are still learning and changing over to holistic care for their animals. This listing is only a guide and we urge you to contact all the breeders of the breed you are interested in. This will help you to obtain a better understanding before making any lifetime commitments to a new member of your family.
VACCINATIONS
NOS: Vaccinate only with homeopathic nosodes.
V / NOS: Vaccinate only with killed vaccines (when available) using a slower modified schedule; then use nosodes.
V / MK: Vaccinate only with killed vaccines (when available) using a slower modified schedule, but do not give booster (unless indicated by titer testing).
RNOS: Would be willing to use nosodes on an animal if requested.
LNOS: Have an interest and in the process of learning about nosodes.
HEALTHCARE
HM: Holistic methods (i.e. homeopathy; herbs; glandulars, etc.) are predominately used. (Conventional only when appropriate).
HM / CM: A good mixture of holistic and conventional treatments are utilized.
CM / HM: Primarily conventional treatments have been used but in the process of learning and using more holistic treatments.
DIET
RF: 100% raw food diet
CF: 100% cooked diet
1/2 RF & 1/2 COM: 1/2 raw food and 1/2 naturally preserved commercial food
1/2 CF & 1/2 COM: 1/2 cooked diet and 1/2 naturally preserved commercial food
COM / SUP: Majority of diet is naturally preserved commercial food with nutritional supplements
Apply For A Listing:
Inclusion in our breeder directory is free. If you are a breeder who incorporates natural healthcare for your animals, we would be happy to include your information in our directory. Simply complete this application and once approved, your information will appear in our breeder listings.
Browse our Breeder Directory:
Dogs: Cats: